Skiligal
Sportfishing

Captain Dave Peck
PO Box 1062
Manteo, NC 27954

Oregon Inlet
Fishing Center

252.475.9760

email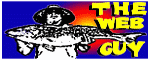 Captain Dave Peck has been charter fishing full time for a living out of the Oregon Inlet area for 16 years. Whether watching several poles bend and drags scream with yellowfin and bigeye tuna, aggressive dolphin schooling behind the boat, or a pair of marlin crashing the baits, Dave loves fishing just like the first day he ever went offshore.
He prides himself in trying to provide the most action, while always looking to put meat in the box. While at trolling speed, anyone is welcome upstairs for a visit. The Skiligal fishes between April 1 and Thanksgiving, and then Captain Dave spends most of his winter in Islamorada Fl. specializing in daytime swordfishing.
The Skiligal will offer DAYTIME SWORDFISHING TRIPS from August through November this year. Call Captain Dave for details.